Feeling constrained by your home's size or budget, but still dreaming of a beautiful, open-air living space? Have you considered adding custom vinyl curtains for your porch or patio as an alternative to adding on a sunroom? If so, this article is for you!
Why People Love Sunrooms
Sunrooms are popular additions to homes for a variety of reasons. Adding them to a home can enhance its character, provide shade during hot weather, and provide additional space for relaxing and enjoying the outdoors.
Since they are heated and cooled along with the rest of the house, sunrooms can also be used as offices or family rooms throughout the year.
Investing In a Sunroom Can Be Expensive
A sunroom is an expensive option, and varies depending on the size and features of the room. Room size, materials used, and contractor costs are all factors to consider when calculating the cost of a sunroom.
Sunrooms require more maintenance, especially the roof and windows.
Most require an extensive roofing system, which is very expensive to build.
You lose that outdoor feeling since it is enclosed.
Adding a sunroom to your home requires a permit since it includes a roof or cover and is subject to local zoning laws.
Why Not Use Vinyl Curtains Instead of Building A Sunroom?
Do you love spending time on your porch or patio but hate the fact that it's always hot and your furniture gets damaged by the rain and wind? Or maybe you love the look of a sunroom but don't want to pay the high price tags for hiring a contractor to build one.
If you're looking for an alternative to building a sunroom, consider investing in custom vinyl curtains for an existing porch or deck. Piedmont Enclosures, offers customizable, true fit, and easy-to-install clear vinyl curtains to help you enjoy your outdoor space while enhancing your outdoor lifestyle for less. With our clear vinyl curtains, you'll get privacy without obscuring your view, and they're perfect for any type of patio, porch, or deck.
Vinyl Curtains Have the Following Advantages:
Vinyl curtains are a great option for people who want a stylish and affordable way to add color and privacy to their homes.
These curtains are available in many different styles and can be customized to fit most porches or patios. Some of the benefits of clear patio curtains include resistance to fading and being easy to clean.
Custom Vinyl Curtains Are Affordable
Vinyl curtains enclosures are much more affordable and can be enjoyed for many years. The main advantage of vinyl curtains is that they are very easy to care for.
Our custom vinyl curtains are made right here in the USA out of scratch-resistant materials of high quality. Furthermore, they are UV-resistant and have a commercial grade finish. Because of this, they can withstand tough conditions and extreme temperatures. Compared to building or adding a sunroom, vinyl curtains are much more affordable option.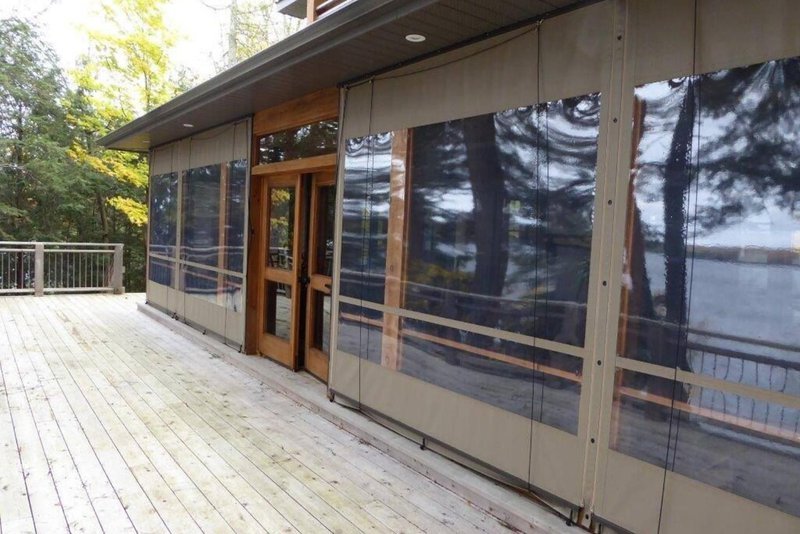 How to Care For Vinyl Curtains
Just like traditional curtains, vinyl curtains can be cleaned with mild detergent and warm water. Here are some ways to care for vinyl curtains.
Make sure the curtains are dust-free before cleaning them.
Clean them with mild soap and water.
Be sure they are thoroughly dry before rolling up the curtain.
Custom Vinyl Curtains are Environmental Friendly
Our vinyl curtains an environmentally friendly option that can save you money in the long run. They are made of polypropylene, a type of plastic that does not produce harmful emissions when burned, which makes them a less harmful choice than other curtain materials. Vinyl Curtains Are Versatile
Vinyl curtains are versatile and can be used in a variety of ways on your porch or patio. They can be used as a covering to block out light or the sun, or as an accent piece to create a unique look, or even as an extra layer of insulation when the weather is cold outside.
Piedmont Enclosures offers premium roll-up curtains that are the right choice for any outdoor living space and are perfect for patios, decks, and porches of all sizes.
Vinyl Curtains are Customizable
Vinyl curtains are a customizable option that can add a touch of luxury to your space. There are many different colors and designs to choose from, so you can find the perfect curtain for all your needs. Clear porch curtains are a great way to give your space a clean and polished look. They also provide privacy while still allowing natural light in.
Vinyl Curtains are Durable
Vinyl curtains aren't always seen in the most favorable light since people tend to think of them as being cheap or disposable. Although many don't realize it, vinyl curtains are near indestructible and can last for many years without any problems at all. One of the main reasons why our vinyl curtains are so durable is because they are made from a Marine-grade 20 mil clear vinyl. Our enclosures are cold crack rated to 0 degrees F – will remain flexible even in cold weather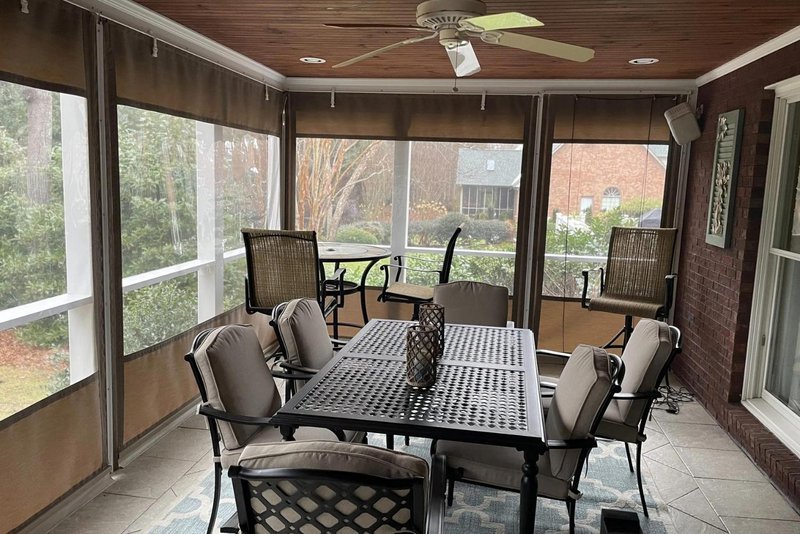 Vinyl Curtains Offer Privacy
Clear vinyl curtains can also be a great way to add an extra layer of privacy to your porch or patio. Clear vinyl curtains are especially effective at blocking out sunlight and keeping you cooler in the summertime.
By using clear vinyl curtains, you can create a tranquil and relaxing environment on your porch or patio. Clear vinyl curtains are also great for keeping out dust and pollen, making them a great choice for people with allergies.
Vinyl Curtains are Convenient to Use
The advantage of vinyl curtains is that they can be quickly and easily pulled back or closed to protect your furniture from the elements. Clear vinyl curtains can either be used as a complete enclosure around your patio or as individual window coverings for each side of your porch.
Georgia Porch and Patio Enclosures Offer Vinyl Curtains
When you're looking to add some shade to your backyard oasis or create some shelter from the elements, our custom vinyl curtains are a great option. Clear curtains are perfect for blocking out the midday sun, and can also be used to keep rain and snow out during inclement weather.
Piedmont Enclosure has a variety of porch and patio enclosures that are sure to enhance your backyard oasis. Contact our Georgia porch and patio professionals to discuss your project and get a detailed estimate.